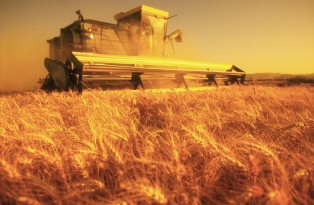 WASHINGTON, DC–  A bill sponsored by Freshman Rep. Kristi Noem (R-SD) to prohibit any further regulation of rural dust by the Environmental Protection Agency (EPA) passed the U.S. House today with bipartisan support.  The bipartisan bill, H.R. 1633, was approved by a vote of 268 to 150.
"This is a huge win for farmers and ranchers in South Dakota and across the country," said Noem.  "The regulation of farm dust is not a partisan issue. It is a rural issue. And it's a real issue.  My bill received support from Democrats here in the House, and the companion bill in the Senate also has Democratic support. Additionally, over 190 agriculture organizations have written in supporting the bill, including the Cattlemen, Stockgrowers, Wheat Growers, Farm Bureau and many others."
"Regulatory uncertainty harms small businesses across America, including those in agriculture.  This bill helps stop that uncertainty in one important area – the regulation of dust.  As an experienced farmer and rancher myself, I know firsthand  the struggles and uncertainty associated with production agriculture.   This bill is a strong step in the right direction to reduce regulatory uncertainty," Noem continued.
"The EPA is still saying they have no plans to further regulate farm dust, and that this issue is a "myth," but those words are empty promises until we back them up with real action. Unless this bill is passed by the Senate and signed into law, there is nothing stopping the EPA Administrator from changing her mind or from being forced to take action as the result of a lawsuit.  That is a simple fact that farmers and ranchers understand.  And it's why they are supporting my bill," said Noem.
"If Administrator Lisa Jackson is serious about bringing regulatory certainty to farmers and ranchers, she should help us in this effort.  She should endorse the bill and encourage Senator Reid to bring it up in the Senate and President Obama to sign it.   Until she does that we can only assume that her rhetoric on dust isn't based on reality and that she truly wants to retain her ability to further regulate dust," Noem concluded.
The bill now moves to the Senate where Sen. Claire McCaskill (D-MO) recently introduced a similar bill.
WATCH the video version of this statement here:  http://youtu.be/n5mYUf-yKkc
WATCH Rep. Noem's statement on the House floor here: http://youtu.be/MjU6I-_9YcM
---
This article is printed with the permission of the author(s). Opinions expressed herein are the sole responsibility of the article's author(s), or of the person(s) or organization(s) quoted therein, and do not necessarily represent those of American Clarion or Dakota Voice LLC.
Comment Rules: Please confine comments to salient ones that add to the topic; Profanity is not allowed and will be deleted; Spam, copied statements and other material not comprised of the reader's own opinion will be deleted.
Newswire articles originate from a variety of sources including wire services, press releases and more. Newswire pieces are written by a representative of the person or organization that is the subject or source of the article and are presented as informational statements about the subject discussed.
Newswire